Starting to feel and look better already - it's at the tipping point. Once you put about 7 days into habit, it becomes normal and natural to want to follow the program.
I had some leftover broccoli, so I made this "weekend omelet" for my weekday breakfast. I call it my weekend omelet because there was a time here and there that I basically ate one of these guys every weekend.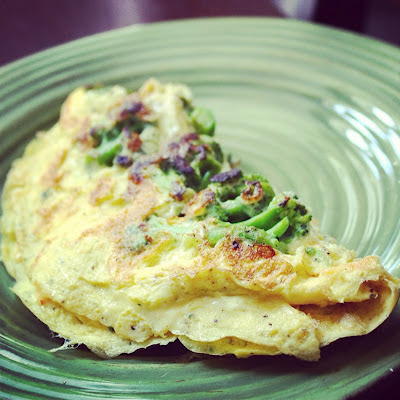 Breakfast
1 Teaspoon EVOO
1/2 Cup Steamed Broccoli, leftover
2 Eggs, beaten
Kosher Salt
Fresh Cracked Pepper
2 oz Sharp Cheddar Cheese, grated
Heat a non-stick skillet over medium heat, add oil. Next add broccoli and heat until just warmed; add eggs. Allow egg portion to set on bottom of the pan, lifting up cooked eggs with a wooden spoon and tilting the pan to allow any runny portions to reach the heat. Season with kosher salt and pepper. Carefully flip the omelet, either with a spatula or using a quick flip of the pan, keeping the omelet in tact and in the shape of the pan. Add cheese to one side, fold and serve.
Lunch
Acai Berry Smoothie
Dinner
Side Salad + Balsamic
6 oz Grilled Beef Sirloin
Grilled Veggie Skewer
Workout
6 mi run @ 7:45 pace