In spite of the fact that I'm cutting back on carbs and trying to carefully follow a strict diet over the next few weeks, that doesn't mean that I'm cutting back on flavor - or my favorite dishes for that matter.
Instead, I like to improvise. I prefer to use this time as an opportunity to lighten up some of my traditional favorites. As it turns out, I'm often surprised at some of the the light, tasty results!
I was craving Chicken Picatta, but I knew it's traditional breaded and fried counterpart wouldn't fit in with my
NO, LOW, GO Diet
I'm carefully curating. So instead, I skipped the whole flouring of the chicken breasts, and I simply sauteed them in extra virgin olive oil - infused with plenty of garlic and shallots. From there, I deglazed with some lemon juice and finished the dish off with salty, briny capers.
Instead of pasta on the side, I went with steamed broccoli. It turned out to be a great choice - filling and full of fiber, and still absorbent enough to pick up some of the delicious pan drippings from the chicken.
Stay healthy my friend.
MM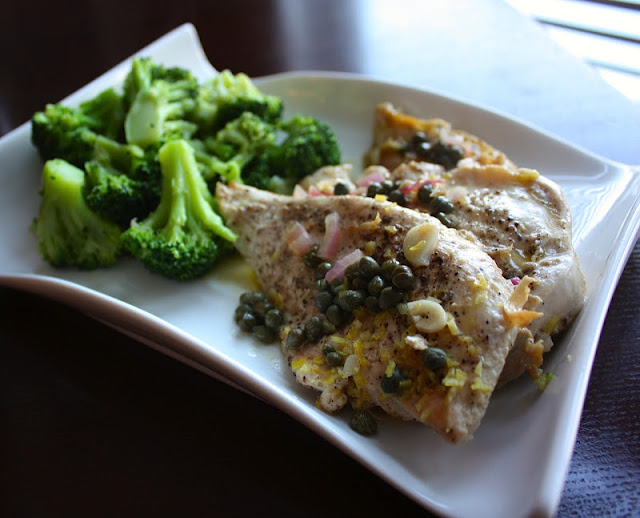 Easy Chicken Picatta

(Prep 5 mins, Cook 15 mins, Serves 1)
6 oz or 2 - 3 Chicken Cutlets, pounded thin
Kosher Salt
Fresh Cracked Pepper
1 Tablespoon Unsalted butter
1 Tablespoon EVOO
2 Cloves Garlic, minced
1/4 Shallot, minced
1 Teaspoon Lemon Zest
1 Lemon, juiced
1 Tablespoon Capers
Preheat a skillet over medium high heat. Meanwhile, season chicken cutlets with salt and pepper. Add both butter and olive oil to skillet and swirl until melted and combined. Next, add garlic, shallots, and zest: saute for 45 - 60 seconds, careful not to burn. Add chicken and cook, undisturbed for 3 minutes on one side. Flip cutlets and deglaze with lemon juice. Continue to cook for 3 - 5 minutes, or until chicken is cooked through. Add capers to finish. Serve.
Steamed Broccoli
1 1/2 Cups Broccoli Florets
1 Teaspoon Kosher Salt
Bring 1 inch of water to a boil in a medium pot over high heat. Add broccoli and season with salt. Cover and steam for 2 - 3 minutes, or until broccoli is just tender. Serve.